As Jews, we know that every vote is sacred, just as every person is sacred. Every single one of us is entitled to a say in our democracy, and yesterday, millions of us had our say. Our region (and the nation) saw many historic wins and a few disappointing losses.
We are so proud to be part of a powerful local progressive movement in Maryland and DC. This fall, we endorsed nine candidates and took positions on four ballot initiatives. Nearly every candidate and ballot initiative we supported won.
Mazal tov / congratulations to Governor-elect Wes Moore, Lieutenant Governor-elect Aruna Miller, Comptroller-elect Brooke Lierman, and Attorney General-elect Anthony Brown in Maryland; Mazal tov / congratulations to Councilmembers-elect Matthew Frumin and Zachary Parker and Councilmembers Brianne Nadeau and Charles Allen in DC. We can't wait to see what these leaders — and we — can do together.
We also sounded the alarm this fall about two dangerous Board of Education candidates in Montgomery County. Our students and educators' health, safety, and success were on the ballot, and we are relieved that neither of these candidates won.
And we are proud of the amazing strides for working families that Councilmember Elissa Silverman has championed in DC over her two terms in office, from paid family and medical leave to the domestic worker bill of rights. Thousands of DC working families have benefited from her strong oversight and justice-oriented legislation. Congratulations to Councilmembers Anita Bonds and Kenyan McDuffie on your reelection.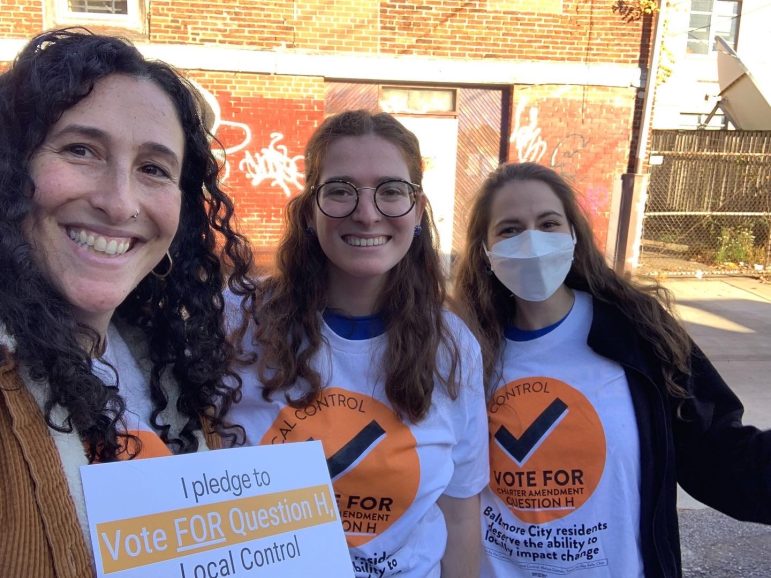 A big Yasher Koach / job well done to the teams that worked to pass Question H in Baltimore City, Question A in Howard County, and Initiative 82 in DC. JUFJ is proud to have played a part in winning these fights for police accountability, immigrant rights, and fair wages for tipped workers.
Unfortunately, Question K, a cynical effort to disenfranchise voters, passed in Baltimore City, approving term limits for elected officials. These term limits will take effect in 2024 and increase the power of unelected, unaccountable staff and lobbyists. We will keep pushing for a local government that responds to voters, not corporate interests.
Thank you to everyone in our JUFJ Campaign Fund community who participated in this election. We must continue to rally, organize, and build power to hold newly elected leaders accountable — and we're proud of the work done this election cycle to ensure progressive champions will represent us.
We will keep fighting for a truly just and fair Maryland and DC where everyone can live, work, and flourish. Thank you for being in this movement with us.