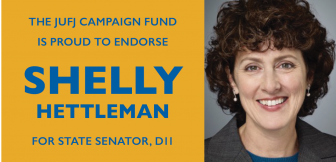 FOR IMMEDIATE RELEASE
January 6, 2020

CONTACT
Molly Amster | Baltimore Director, JUFJ Campaign Fund | molly@jufjcampaignfund.org | 301-529-3875
The JUFJ Campaign Fund Endorses Delegate Shelly Hettleman for Senate
Delegate Hettleman will be a powerful voice for social, racial, and economic justice in Maryland.
BALTIMORE, MD — The Jews United for Justice Campaign Fund is pleased to announce its endorsement of Delegate Shelly Hettleman for the District 11 Senate seat recently vacated by former Senator Bobby Zirkin. Hettleman has established a reputation as a hard-working, knowledgeable, and politically astute legislator who will push for meaningful and progressive legislation as a Senator and member of the Judicial Proceedings Committee.
"Delegate Hettleman has accumulated an impressive record in Annapolis, championing issues such as making Maryland a welcoming home for immigrants, seeking justice for victims of sexual violence, and raising the minimum wage," said Claire Landers, Co-Chair of the Jews United for Justice Campaign Fund Leadership Council in Baltimore. "She is a strong advocate for all District 11 residents and has long been a fixture at JUFJ events. She has fought alongside us to make Baltimore County and the state of Maryland more just. Shelly will be a powerful voice for our shared values in the Senate."
"I am very pleased to have been endorsed by the Jews United for Justice Campaign Fund," said Delegate Shelly Hettleman, candidate for Senator from District 11. "JUFJ does very important advocacy work in my district and across Maryland, and I hear regularly from my JUFJ constituents about social and economic justice legislation being considered by the Maryland General Assembly. It's an honor to have the support of the JUFJ Campaign Fund in my effort to become the next Senator from District 11."
The five members of the District 11 Democratic Central Committee will decide which candidate will be recommended to fill the vacant Senate seat, with Governor Larry Hogan making the final appointment. JUFJ Campaign Fund members are organizing phone banks and letter writing events to support Hettleman.
The JUFJ Campaign Fund, a 501(c)4 organization, launched in 2014 to give the progressive Jewish community and allies a new way to support aligned candidates and hold elected officials accountable; it was the first grassroots Jewish organization in the country to endorse candidates for local office. The JUFJ Campaign Fund gives the progressive Jewish community the ability to speak directly about elections, highlighting where candidates stand on the issues, and endorsing candidates who share JUFJ's values.
To learn more about the JUFJ Campaign Fund, visit jufjcampaignfund.org.